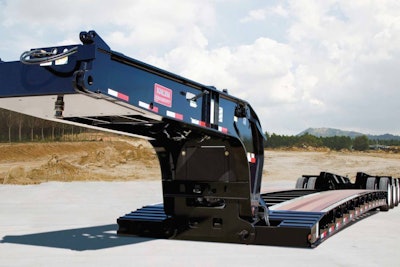 Kalyn Siebert has redesigned and reengineered its KSHRG-3-51T and KSHRG-3-55T hydraulic removable gooseneck (HRG) trailer, which is offered in two standard modes: the cost-effective Commercial series and the heavy-duty Extreme series.
The Commercial-only KSHRG-3-51T starts at 18,000 pounds, while the KSHRG-3-55T, available in the Commercial and the new Extreme series, starts at 19,800 pounds.
The trailers have a new neck-to-deck connection incorporates front deck pins that are more than twice the size and strength of standard pins. The contoured pins match the neck paddle, causing less stress on the trailer.
Both models feature an overhauled design that includes an alignment trough and neck shim that are each 15-percent stronger than previous models. The updated design also simplifies connecting and removing the gooseneck.
The improved neck shim improves stability and service life by reducing the "mushrooming" that often occurs with standard T1 shims.