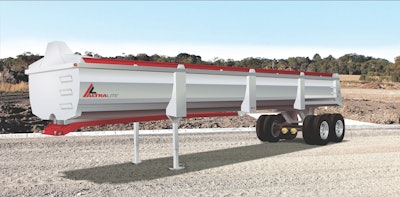 Heil Trailer International subsidiary Kalyn Siebert has launched its Altralite lightweight steel end-dump trailer.
Designed to be stable, strong and safe, the trailer features a dumping angle that keeps all axles on the ground during the fifth stage of dumping, a bathtub design that keeps the center of gravity close to the trailer's centerline, longitudinal beams that provide extra strength and a tailgate slant that ensures positive closing.
The trailers will be manufactured in Kalyn Siebert's Gatesville, Texas, facility, which will begin production in the last quarter of this year. The Altralight will be in full production by the second quarter of 2014.
For more information about Kalyn Siebert's new Altralight trailer, visit heiltrailer.com.