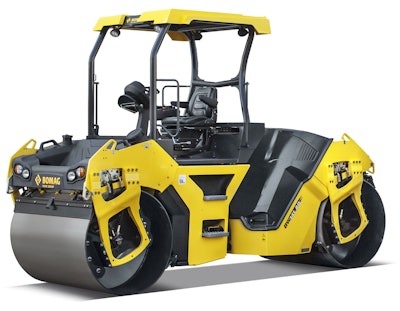 Bomag has introduced the BW141AD-5 and BW151AD-5 tandem vibratory rollers with high VPM performance and increased fuel efficiency over previous models.
Tier 4, 73.2-horsepower Kubota water-cooled diesel engines power each of the rollers, while an ECOMODE system reduces fuel consumption by up to 30 percent by adjusting engine speed for the load.
The BW141AD-5 and BW151AD-5 offer 59-inch and 66-inch working widths, respectively, and each deliver up to 17,760 pounds of centrifugal force.
Crab-steer on each machine allows the operator to offset the rear drum up to 6.7 inches in either direction, providing the ability to move around jobsite obstructions.
The rollers feature what Bomag calls "intelligent design," which includes a large engine hood and a large water tank below the operator's station and the engine located in the rear frame, as well as a pressurized water spray system with a second pump and triple filters.
The newly-designed operator's platform offers a spacious working area, which includes a travel lever with integrated switches, easy-to-reach operating controls and steering wheel and an adjustable, multi-position seat that rotates and slides laterally.
The machines also have automatic vibration control, speedometer, V-belt protection, halogen working lights, indicator and hazard lights, back-up alarm, master battery disconnect switch and tool compartments.
An optional mat temperature display, rollover protection structure (ROPS) cabin with heating or air conditioning, Bomag Telematics, drum edge lighting and integrated edge cutter for the rear drum are also available.