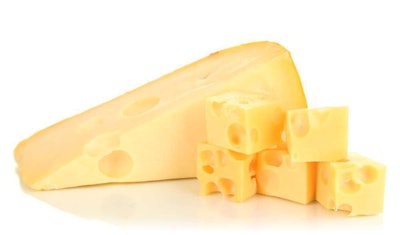 Where's the cheese? It's on the road!
Wisconsin is known for its tasty cheese and its football fans wearing large, foam cheese hats — making them "cheese heads." But now the state is taking its love of cheese and using it to help keep roads clear.
Milwaukee Alderman Tony Zielinski's resolution directing the Milwaukee Department of Public Works to come up with a report on using cheese brine with salt on its streets is complete. Milwaukee will mix cheese brine with salt to de-ice city streets on a pilot program basis this winter, Zielinski says in a blog post.
The city recently decided to proceed with a pilot project testing cheese brine as a supplement to rock salt, a few months after a Zielinski's resolution directed the Department of Public Works to study using the brine in de-icing, the Chicago Tribune reports.
Zielinski says using the deicing alternative is more environmentally friendly (salt pollutes water and is corrosive) and will help save money by using cheese brine it receives from a local cheesemaker.
Cheese isn't the first food product to be used as a deicer. Better Roads has previously reported on the Missouri department of Transportation (MoDOT) using sugar beets for deicing roads.
Read more articles from Better Roads on road salt, salt alternatives and winter maintenance here.