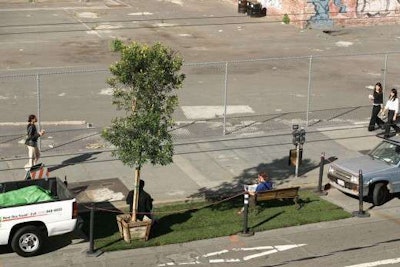 Rebar, a San Francisco art and design studio, is ramping up for its eighth annual PARK(ing) Day in which select metered parking spaces are converted into temporary public spaces.
The idea began in 2005, when the studio placed a patch of sod, a park bench and a tree in a metered parking space for two hours — the allotted time on the meter — then packed up the temporary park and moved on.
The event has since grown into a worldwide "open-source project," as the studio calls it, and is now celebrated every third Friday in September. This year, it falls on September 20.
Rebar says the project isn't limited to placing a traditional park in the metered space. Previous installments have included free health clinics, temporary urban farms, ecology demonstrations, political seminars, art installations, free bike repair shops and a wedding ceremony.
Rebar says PARK(ing) Day has developed into a project to give communities what they need.
According to the PARK(ing) Day website: "…this is the true power of the open-source model: organizers identify specific community needs and values and use the event to draw attention to issues that are important to their local public—everything from experimentation and play to acts of generosity and kindness, to political issues such as water rights, labor equity, health care and marriage equality. All of these interventions, irrespective of where they fall on the political spectrum, support the original vision of PARK(ing) Day: to challenge existing notions of public urban space and empower people to help redefine space to suit specific community needs."
For information on how to participate in PARK(ing) Day, including tips on legal regulations, visit parkingday.org/participate.