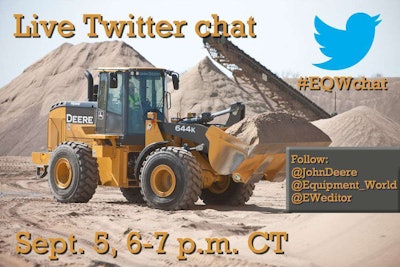 Our sister site, Equipment World, will moderate a live Twitter chat next week about John Deere's 644K Hybrid wheel loader.
The chat will take place September 5 from 6 p.m. to 7 p.m. Central and will focus on a Q&A about the loader, which was introduced at World of Concrete in February.
To submit a question for the chat, either tweet the question with the hashtag #EQWchat or submit the question through the EQW Chat page at equipmentworld.com/eqwchat.
And make sure you're following the Twitter accounts of Equipment World (@Equipment_World), John Deere (@JohnDeere) and Marcia Gruver Doyle, Equipment World's editorial director (@EWeditor), before the chat begins.