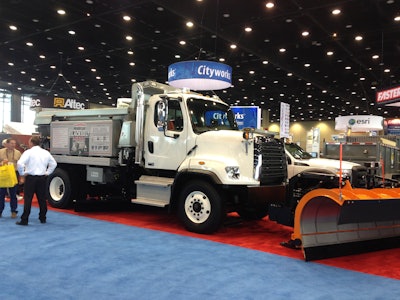 Henderson Products featured its BlackBelt Maxx truck body, capable of tackling an array of applications, at the American Public Works (APWA) Congress and Exposition this week.
The truck body, introduced earlier this year, can perform jobs such anti-ice applications, deicing applications, pre-wet applications, salt slurry generation, material hauling and high-volume material conveying.
Features include Load Sense Belt Tensioning, a 54-inch-wide pure belt design that eliminates chain maintenance, a planetary drive system that provides 75-percent roller-to-belt engagement, a low working center of gravity, 71-degree sloped walls, a high-capacity hopper, high-capacity anti-ice liquid tanks, a high volume material output and controlled load management system.
The BlackBelt Maxx is available in 10-foot and 18-foot body lengths.