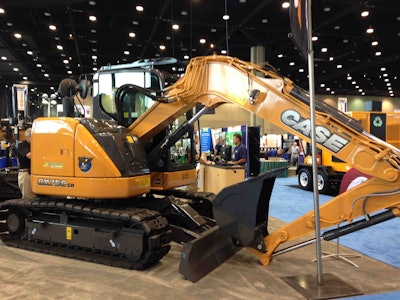 Case Construction on Monday introduced its new CX75C SR mid-sized excavator, which features a first-in-class Tier 4 Final engine with a diesel oxidation catalyst (DOC)-only cooled exhaust gas recirculation (CEGR) system.
Launched at the American Public Works Association (APWA) Congress and Exposition, the CX75C SR offers a 5-percent improvement in fuel efficiency, a 7-percent faster cycle time, a 20-percent larger fuel tank, a 7-percent wider cab and a 9-percent increase in hydraulic power, compared to previous models.
The 16,200-pound machine operates at 55.2 net horsepower and delivers a 12,800-pound digging depth and a 12-foot, 6-inches digging depth. The excavator also has a minimum swing radius
The Tier 4 Final engine pairs with a high-pressure common rail (HPCR) fuel injection system that reduces fuel consumption, while the DOC-only CEGR system eliminates the need for a diesel particulate filter (DPF).
Three operating modes — auto, heavy and speed priority — also work to boost fuel economy by matching the engine throttle and RPM to the task at hand. Additionally, the Auto Idle feature, which allows for multiple idle rates, and the automatic engine shutdown both increase fuel savings.
The excavator can be used with an array of attachments, including heavy-duty, severe and high-capacity bucket options, a wide dozer blade, four hand- or foot-controlled auxiliary hydraulic control systems and the choice between rubber, rubber insert or steel shoe tracks.
The Level II ROPS/FOPS-compliant cab is larger than those on previous models, and it provides 16 percent more glass for improved visibility, as well as increased foot space and elbowroom. Bumps and vibrations are reduced with a four-point fluid mounting system on which the cab sits. Other cab features include a standard 7-inch full-color monitor and an optional rearview camera.
For simplified serviceability, the machine features eye-level fluid gauges, swing-out coolers and a sliding radiator cleaning net, as well as radiators, filters, hydraulics and an engine that are all easily accessible from the ground.
Additional options for the excavator include the easy-to-install Case SmartFit bucket tooth system with heavy-duty, self-sharpening teeth, as well as Case SiteWatch for telematics, remote monitoring and data reporting.
Case says it will provide more information about the new CX75C SR later this year.