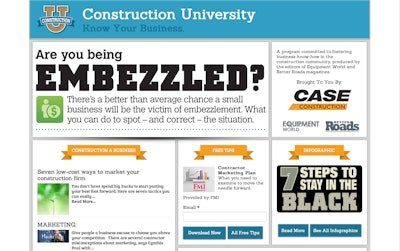 Earlier this year, Better Roads and sister site Equipment World teamed up with Case Construction Equipment to provide construction professionals with a resource for running a solid construction business.
Construction University is that resource.
Construction University features topics ranging from marketing to business growth to cash flow management and more. The site includes articles, infographics and charts. There's even a free downloadable Contractor Marketing Plan from FMI.
To get started on polishing your business management skills, check out theconstructionuniversity.com.