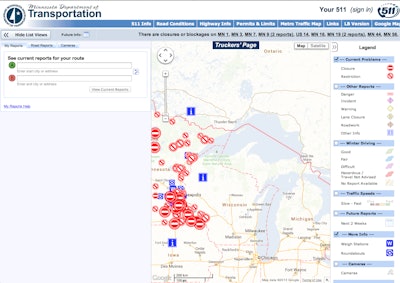 The Minnesota Department of Transportation (MnDOT) has launched a real-time service webpage for truck drivers.
The new page, part of the agency's 511 services, allows truckers to plan the best route from origin to destination.
When drivers download MnDOT's 511 mobile application, they can also receive alerts about possible road restrictions along their route, including roundabouts, weight and height restrictions on bridges and more. Drivers can also personalize the route with planned stops.
MnDOT improved the low bandwidth site with features like concise traffic listings and larger camera views.
The webpage and app provide information about trips only within the state of Minnesota.
The 511 app is available free of charge for the iPad and iPhone in the App Store and for Android devices in the Google Play store.
To view the webpage, visit tr.511mn.org.