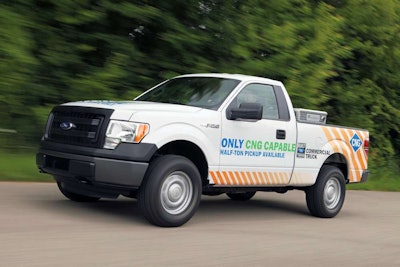 Ford has announced it will begin offering a prep package this fall that will allow the 2014 F-150 to run on compressed natural gas (CNG), liquefied petroleum gas (LPG) and gasoline, our sister site, Equipment World reported.
The prep package will make the F-150 the only CNG/LPG-capable half-ton on the market and will allow the truck to drive more than 750 miles on one tank of gas and 23 miles per gallon on the highway, depending on tank size selected.
The factory-installed package comes with hardened valves, valve seats, pistons and rings that allow the pickup to operate on either natural gas or gasoline.
The CNG/LPG prep kit plus upfit is set to cost an additional $7,815 to $9,815.
The F-150 will join the Transit Connect van and wagon, E-Series van, F-Series Super Duty trucks, F-650 medium duty and the F53 and F59 as another Ford commercial vehicles with a CNG/LPG option.
For more information and additional photos of the CNG/LPG-capable F-150, check out the full story at EquipmentWorld.com.