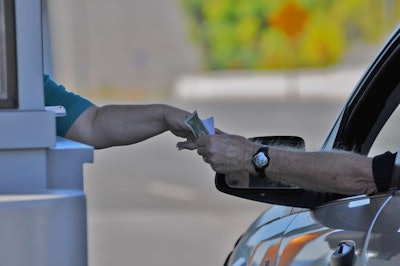 The issue of tolling existing interstates isn't going away. It's not popular and it's down in the "slim and none" chances category in most analyses. But with highway funding hopelessly inadequate and no new source on the short-term horizon, this issue will linger.
It will raise its head as MAP-21 winds down and heads into extensions (Cynic? Who, me?) and, despite its long odds, I'm guessing it will get some solid air time. While it is largely unpalatable, the fact that there is such a severe shortage of funding for transportation infrastructure could easily lead to some support–not much, but some.
Remember House Transportation and Infrastructure chairman Bill Shuster and ranking member Nick Rahall have both said all possibilities are "on the table." They are mostly questioned about gas tax hikes when they say that, but technically it means interstate tolling too.
Patrick Jones, head of the International Bridge, Tunnel and Turnpike Association (IBTTA) is one of the people pushing new tolls on old interstates. And that makes sense; it's his members who collect those tolls. But he's not alone. He is however in a significant minority.
Ryan Holeywell, writing for Governing, takes a look at Jones' position and that of his opponents, and you can see from where we are that this issue has just enough push behind it to become part of next year's reauthorization debate.
It could be just because it's relatively complex because of the machinery that would be needed to make it work, and that might suit politicians who rely on smoke machines. Work a toll move correctly, Washington congressperson, and not too many people will actually pin the blame on you.
Another reason may be the SAFETEA-LU extensions where politicians faced with the obvious–raise the gas tax or you will simply not be able to adequately fund this bill. Chose to look the other way, and today's reality is an underfunded MAP-21.