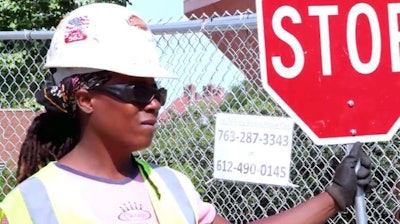 A program at Summit Academy OIC is training women to work construction projects like the St. Croix Crossing bridge and the Central Corridor Light Rail, according to a report from KAAL-TV.
Women Wear Hard Hats Too (WWHH2), a 20-week program dedicated to training Minnesota women in construction, focuses on teaching women more than just trade skills. WWHH2 features an industry network, advisory council, tradeswoman mentorship program and job placement support. It also uses "brown bag sessions" to teach women how to physically prepare for trade work, balance family and work and spot sexual harassment.
Construction training manager Gary Courtney told KAAL-TV that women construction workers are "in demand."
A likely cause is the shortage of trade workers, which is boosting demand for all workers in the field. According to a report last month from our sister site, Equipment World, a lack of qualified workers is negating a would-be increase in construction projects.
Many of the projects that do develop in Minnesota are required to hire a percentage of minorities, which includes women. Some projects are required to meet a specific percent participation goal for disadvantage business enterprises, or minority- and woman-owned businesses.
The increase in demand and the state's affirmative action could give trained women a boost in construction.
Tuition is $5,400, but Summit Academy said grants will cover most costs.
For more information about Women Wear Hard Hats Too, visit saoic.org/career-programs/women-wear-hard-hats-too or watch the video below.
[youtube oDif2In-LjM nolink]