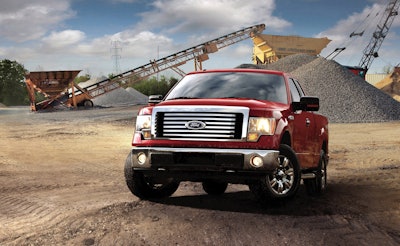 Vincentric gives Best Value awards to automakers annually in both the fleet and consumer markets. This year, Ford, GM and Ram took the top titles among truck brands, according to our sister site, Equipment World.
Ford earned the Best Value truck brand award for its pickup trucks in both the fleet and consumer markets.
Vincentric specifically pointed to the F-150 as the truck that put Ford in the top position for the award, noting that "the solid performance by the full F-Series lineup and its strong fuel economy helped drive the Ford win."
In addition to giving Ford the edge for the best value brand, the F-150 also picked up the Best Value award for half-ton pickups in both the fleet and consumer markets. This is the F-150's third consecutive consumer win, which Vincentric attributed to the pickup's low fuel and insurance costs.
But Ford wasn't the only brand to win awards from Vincentric. GM earned more individual truck awards for its Chevy Silverado and GMC Sierra than did Ford for its F-150.
GM's Silverado/Sierra 2500HD models landed awards in the consumer market as the best value for 3/4-ton pickups, mainly because of their low depreciation. And for the fifth consecutive year, the combo won the best value award for 3/4-ton pickups in the fleet segment; this year, "winning 19 of the 20 lifecycle scenarios measured" allowed the pickups to win.
GM's 2500HD models also received awards in the 1-ton class. For the third consecutive year, the combo earned the best value award for 1-ton fleet trucks thanks to their "low depreciation, insurance, maintenance, and repairs costs."
Ram's 3500 earned the best value among 1-ton pickups in the consumer market for its low maintenance, fuel and repair costs.
For more details and to view information charts, check out the full story at EquipmentWorld.com.