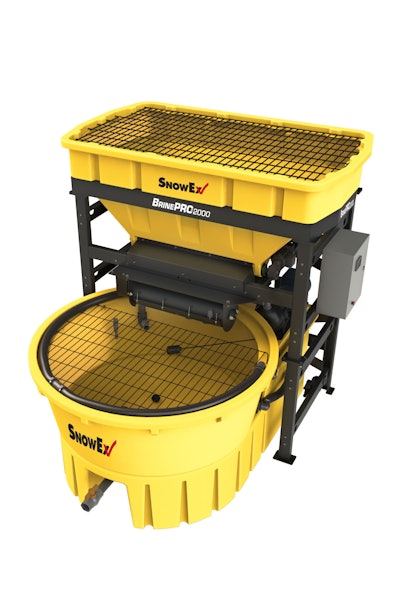 To address the increased need for liquid solutions in snow and ice management, SnowEx has introduced the Brine Pro 2000 brine maker. With its unique, patent-pending design, the Brine Pro provides simple installation and automated operation, empowering end users to confidently produce their own brine.
Engineered for use with low-flow water input and standard 220VAC power sources, the Brine Pro is highly compatible for a variety of operations. It features intuitive touch-screen controls with separate modes for automatic and batch production, as well as a special cleaning mode. Its automatic salinity control helps ensure proper salt/water proportions with minimal effort from the operator.
The Brine Pro includes a dry hopper system for no-splash salt refills and easy visual salt level indication. The hopper has a 1-cubic-yard capacity with a vibrator and a sloped design for easy clean-out. Material is precisely transferred from the hopper to the 265-gallon mixing chamber through a unique flow control system and hammer mill salt grinder, which grinds the salt to a consistent particle size, accelerating the dissolve rate and expediting the clean-out process. In the mixing chamber, a high-volume circulation pump ensures consistent brine production at rates up to 1,050 gallons per hour.
To minimize corrosion, the hopper, mixing chamber and reservoir are constructed of polyethylene with powder-coated and stainless steel components. The system is covered by a two-year warranty.