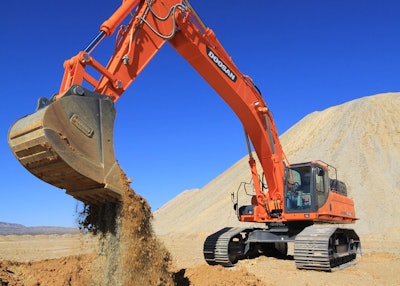 According to our sister site, Equipment World, Doosan's new DX490LC-3 and DX530LC-3 excavators will replace the company's DX480 and DX520 respectively, upgrading horsepower, lift capacity, bucket digging force, cooling and fuel efficiency.
A six-cylinder Tier 4 interim engine gives the DX490LC-3 and DX530LC-3 389 horsepower. A variable geometry turbocharger, with Standard and Economy modes, boosts the machines' performance and saves fuel on lower rpms.
Power+ also increases performance, allowing the excavators to work more intensive jobs. The machines' four work modes–Digging, Breaker, Shear and Lifting–determine fuel consumption based on the application at hand.
The excavators deliver a 21-percent increase in torque, 3-percent upgrade in digging force and 2-percent rise in lifting capacity, compared to the previous models.
The DX490LC-3 and DX530LC-3 feature an upgrade cooling system with a 10- to 16-percent greater cooling capacity, made possible by two variable-speed hydraulic fans.
Cab-specific features include an easily adjustable seat, a 20-percent reduction in cabin vibration, a 1.8-inch increase in door space and a 6.1-percent increase in total cab space. Doosan also reduced the angle of the joystick to provide more legroom for the operator.
Optional Intelligent Floating Boom and air compressor are also available.
For more information about Doosan's new DX490LC-3 and DX530LC-3 excavators, check out the full story at EquipmentWorld.com.