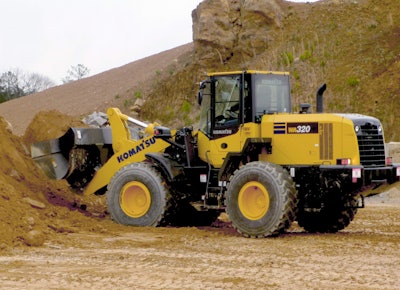 Our sister site, Equipment World, reported on Komatsu America's WA270-7 wheel loader, which lowers fuel consumption by up to 10 percent compared to the WA250-6.
A Tier 4 Interim SAA6D107E-2 engine powers the 28,836-pound machine and delivers 149 net horsepower.
The WA270-7 features Parallel Z-bar loader linkage, which delivers a 10-percent increase in lift force and offers a parallel lift linkage and high tilt forces.
Other features include Variable Geometry Turbocharger, an Exhaust Gas Recirculation, Komatsu's diesel particulate filter with an integrated design and a smart system, SmartLoader Logic, hydrostatic drive train with increased pump capacity, traction control system and variable speed control system.
The cab's front glass that is lower than previous models, and the redesigned seat-mounted right hand console includes a multi-function mono-lever with proportional control for the integrated third spool. The cab also has an auxiliary input, two 12-volt ports and a 7-inch high res LCD monitor.
The WA270-7's maintenance and management features include convenient service access, increased cooling capacity, wider cooler fin spacing, an auto-reversing fan and Komatsu's Equipment Management Monitoring System.
For more information about Komatsu America's WA270-7 wheel loader, read the full story at EquipmentWorld.com.