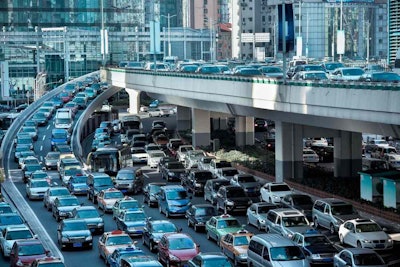 Traffic congestion in the United States is on the rise, signaling an improvement in the nation's economy, USA Today reported.
Following nearly two years of a decline in traffic congestion, it was up 4 percent year-over-year in the first three months of 2013, according to an upcoming Traffic Scorecard from INRIX.
In 2012, traffic congestion was down 22 percent compared to 2011.
The consecutive increase in congestion can be tied to economical improvements. The rise in traffic congestion parallels a 1.3-percent increase in employment this year.
However, Adie Tomer, an associate fellow specializing in transportation at the Brookings Institution, pointed out that traffic congestion is still well below the levels it reached before the recession because people who left the workforce have reduced their driving. Tomer said he does not know whether the  trend will be permanent.
INRIX noted that a rise in unemployment in the next few months may slow or stall the increase in traffic congestion.