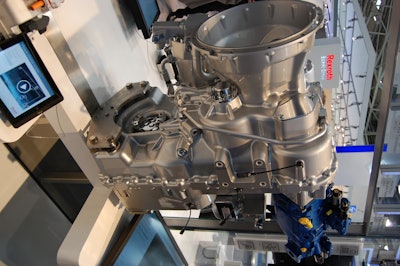 At Bauma 2013 today, Bosch Rexroth debuted its "virtual bleed off" (VBO) technology, while Dana Rexroth unveiled its R2 hydromechanical variable transmission (HVT), our sister site, Equipment World, reported from the show.
Bosch Rexroth's VBO technology is an electrohydraulic pump control system that that pumps only the amount of oil needed, Bernd Schunk, senior vice president sales, mobile applications for Bosch Rexroth told Bauma attendees. The system also combines lower fuel consumption with fast response times and dynamic system stability.
Dana Rexroth's R2 HVT is a modular platform with configurable options. In initial tests, the transmission demonstrated fuel savings of up to 25 percent more than comparable machines with torque converters.
The R2 HVT features software controls for direct or remote mounting, flexibility in shift control and drive strategy parameters and the deployment of up to three power take offs (PTO).
The R2 system is designed to maximize  efficiency and reduce costs for front-end loaders, motor graders, industrial lift trucks, forestry skidders and other off-highway applications requiring 180 to 260 horsepower.
To read more about Rexroth's energy-efficient diesel products, check out the full story at EquipmentWorld.com.