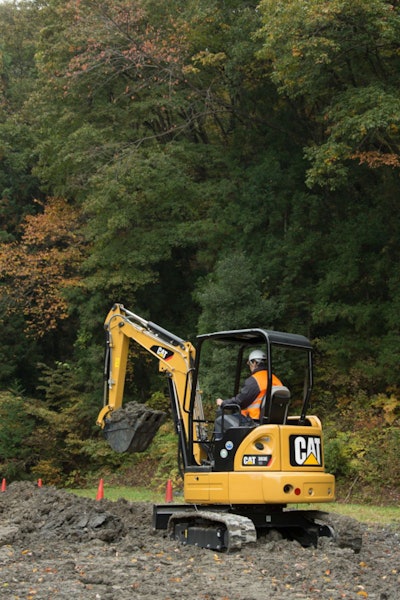 Caterpillar's 303E CR mini hydraulic excavator is 61 inches wide across the blade and has a compact-radius design that limits tail swing to less than 5 inches (127 mm), allowing it to work efficiently and safely in small spaces and on congested job sites. With a maximum operating weight of 7,782 pounds, the mini excavator expands the Cat mini excavator line and gives buyers more choice in the 2.5-3.5 metric ton size class. The new model's 23.5-horsepower (17.5 kW) Cat C1.3 engine combines with a powerful load-sensing hydraulic system – delivering flows to 23.1 gpm. The machine is available both in cab and canopy configurations. All operator stations, cab or canopy, are ROPS, TOPS, and Top Guard Level 1 certified, and the Cat interlock system, which prevents hydraulic movement when the safety bar is raised, adds further to operational safety, as do the standard travel alarm, automatic swing brake, and three-inch-wide retractable seatbelt.
A large, adjustable suspension seat keeps operators comfortable, and a monitor that displays gauges and general diagnostics keeps them informed. An automatic two-speed travel system enhances overall machine efficiency and ease of operation, and an automatic engine-idle system conserves fuel and reduces sound levels.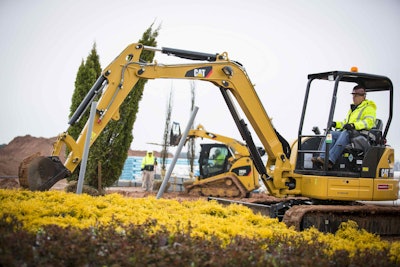 The 303E CR's hydraulic system uses low-effort, pilot-operated joysticks that provide more precise, more consistent control than mechanical-linkage controls. For operator convenience, auxiliary-hydraulic controls are integrated into the joysticks, making the 303E CR work-tool ready with both a one-way-flow circuit for tools such as hydraulic hammers and a two-way-flow circuit when using work tools with cylinders or bi-directional motors. An in-cab pattern changer allows easily switching controls to suit operator preference.
Steel tracks are available for the 303E CR, as an alternative to the standard rubber tracks, for use in applications that require higher resistance to sharp debris.
The Caterpillar 303E CR at-a-glance
MACHINE SPECIFICATIONS

Engine
Cat C1.3
Net power, hp (Kw)
23.5 (17.5)
Weight, canopy, lb. (kg)
7,297 (3 310)
Weight, cab, lb. (kg)
7,782 (3 530)
Hyd. flow, gpm (L/min.)
23.1 (87.6)
Relief pressure, psi (bar)
3,553 (245)
Dig depth, max., in. (mm)
108 (2 750)
Dig height, max., in. (mm)
178 (4 530)