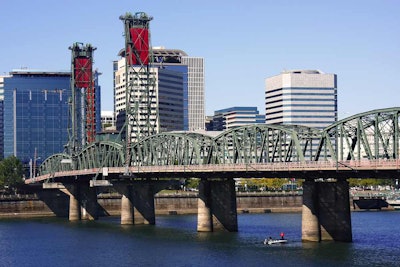 We know Portland is out there.
It's a city with a lot of new stuff going on and a lot of stereotype-bending and mold-breaking when it comes to lifestyle and living. And so, of course, it has a leadership role in the resurgence of bikes as a mainstream form of transportation. We knew that.
But a recent number from BikePortland.org surprised me:  Since August 8 last year, more than one million bikes have been ridden over the Hawthorn Bridge that spans the Willamette River into downtown Portland. On the day the bridge counter registered the 1 millionth bike, a total of 6,214 bikes would roll over the bridge.
 I think the number surprised me because I thought of bikes as making a steady, even impressive comeback as a commute machine, but these numbers suggest that (at least in certain places) bike use may be expanding more rapidly than that.