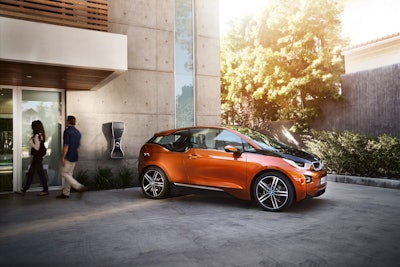 The Design Museum has narrowed down the contenders for the sixth annual Designs of the Year, nine of which were transport designs, Gizmodo reported.
Designs from BMW and Honda are among the nine top transport selections.
The list of top transport designs includes the Air Access Seat, designed by Priestmangoode, that makes air travel easier for wheelchair-bound travelers.
Exhibition Road in London was selected for its $42 million development project improving the infrastructure of, access to and facilities within the area. Dixon Jones/The Royal Borough of Kensington and Chelsea created the design.
The i3 Concept Car from BMW was selected because it generates zero emissions, provides a quiet driving experience, travels 100 miles between charges and offers a fast charging option that charges the battery to 80 percent in less than 30 minutes.
Honda's N-ONE hatchback was selected for its naturally aspirated 1.3L DOHC engine and fuel economy of 64 mpg.
Touch & Travel, a traveling designed by DB Mobility Logistics AG, uses a smartphone app to scan travelers' tickets, compiling fees into one monthly bill.
Other transport designs include the Donky Bicycle, designed by British industrial designer Ben Wilson and made to carry heavy loads on both the front and rear of the bicycle; the Mando Footloose Chainless Bicycle, designed by Mark Sanders, which uses the cyclist's efforts to create electricity; the Morph Folding Wheel a foldable wheelchair, designed by Vitamins for Maddak, that compacts to about half its size for storage and travel; and Olympics Wayfinding, designed by TfL/JEDCO/LOCOG to help visitors find their way around London during the 2011 Olympics.
(Photo: Facebook/BMWi)