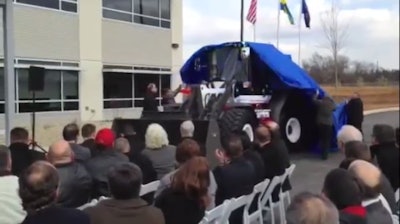 Our sister publication, Equipment World, reported on Volvo's celebration of its $100 million plant expansion in Shippensburg, Pennsylvania. The celebration took place Thursday, when Volvo unveiled a commemorative L60G wheel loader donning an American flag on one side and a Canadian flag on the other.
Volvo said it will produce its L60, L70 and L90 loaders at the Shippensburg plant.
Watch Volvo unveil the commemorative L60G loader in the video below.
[youtube EsvSxxaTxyk nolink]
The newly-expanded plant, which will include a 36,000-square-foot Americas headquarters building and a customer center (set to open in 2014), will produce Volvo's L60, L70 and L90 loaders, make excavators and articulated haulers and perform machine rebuilds.
Pavers will no longer be produced at the Shippensburg plant. Production of these machines has been moved to Volvo's Letterkenny, Pennsylvania, facility.
At the ceremony, Volvo also announced plans for an April inauguration of its excavator plant in Russia, a new backhoe plant in India and movement of its Americas backhoe production from Mexico to Brazil.