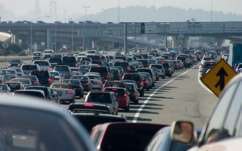 The Los Angeles Times reports that 14 miles of new tolled "HOT lanes" (high-occupancy travel lanes) have opened opened on the San Bernardino Freeway as part of a trial program to see if letting drivers traveling alone will pay to use the express lanes and help relieve road congestion.
This is second project of its type to begin operating in the region since November, according to the LA Times report.
The two westbound and two eastbound "Metro ExpressLanes" will be open to solo motorists who pay a toll, but they will be free for cars carrying at least two passengers, according to the report.
During peak travel times, however, only carpools of three or more people will be able to use the lanes without paying. Van pools and motorcyclists also can enter the lanes toll free, according to the report.
Using what's being called "congestion pricing," motorists will pay anywhere from $0.25 a mile during off-peak periods to $1.40 a mile during the height of rush hour. MTA officials estimate that the average one-way cost should range between $4 and $7, according to the report.
I think the idea makes sense: Let's carpool and help alleviate traffic. It's an attempt to come up with a solution. However, this is not what we need to solve our infrastructure problem. I understand baby steps. But what about people who don't have an option to carpool? Will charging more help alleviate congestion? I don't think so. Some motorists may choose to avoid the tolls, but I'm betting most will just be really annoyed, shell out the money and continue to use the roads.
In the Chicago area, I could take side roads to avoid the tollway, but I don't. We live in a world of convenience. I'm a busy, working mom and my time is limited and precious. Now the tolls have just become a part of my everyday life and just an annoyance.
I wouldn't mind paying them if I felt like it was making a difference in our infrastructure system, but I'm not convinced it does.
While I commend the officials in the L.A. area for trying to make a difference, we're going to need a plan much larger than this. And we need to stop spending money on non-essentials.
Infrastructure is a necessity for our continued growth and our economic recovery. We need to treat the cause and not just try to put a Band-Aid on the problem.