Text INFO to 205-289-3789 or visit www.betterroads.com/info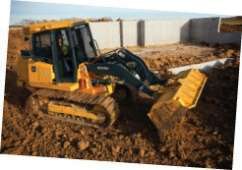 John Deere
V-stick or joystick transmission controls
John Deere has launched its 605K crawler loader as the latest in its K Series line. The machine features the manufacturer's PowerTech 4.5-liter Interim Tier 4-certified/Stage IIIB diesel engine with a net 110 horsepower at 2,200 rpm and hydrostatic transmission. Operators may choose between the V-pattern or joystick transmission control option. Total Machine Control allows customized machine response that can be tailored to individual operators. There are two-bucket options: a general-purpose bucket or a 4-in-1 multipurpose bucket with lifetime lubricated bucket pivot pins. A rear ripper design helps turn materials on the jobsite. A sealed switch model (SSM) with keyless start enables features such as turbocharger cool-down and auto shutdown. www.deere.com
GOMACO
Sidewalk paver with dual-mold system
GOMACO's GT-3200 zero-clearance sidewalk paver, being introduced at the World of Concrete 2013, features a dual-mold system with an aggregate base mold on the front and a sidewalk paving mold on the rear of the machine. It was built specifically for zero-clearance sidewalk rehabilitation projects. The base mold is equipped with two heavy-duty hydraulic cylinders that provide 14 inches of hydraulic lift for setting the grade depth below the track line and raising the mold for the paving pass. The sidewalk paver has a 20-inch-wide, 14-foot-long folding conveyor. The conveyor allows ready-mix trucks to discharge from the street instead of driving over existing curbs to reach the paver. The hydraulic pivoting conveyor rotates 180 degrees to allow for easy hopper loading from either side and to avoid obstacles associated with zero-clearance paving. www.gomaco.com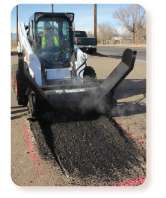 Bobcat
Infrared asphalt heater and processor
Bobcat's Asphalt Preservation Tools system has an infrared asphalt heater and an asphalt processor compatible with 12 Bobcat all-wheel, skid-steer and track loader models: A300, A770, S300, S330, S750, S770, S850, T300, T320, T750, T770 and T870. The 3,760-pound AH30 heater is 59 inches long, 84.4 inches high and 111.4 inches wide. Its three infrared heating elements can heat an asphalt repair area as large as 30 square feet to 300 degrees Fahrenheit. The 995-pound AP40 processor is 60.4 inches long, 47.7 inches high and 76.9 inches wide. It can mill existing damaged asphalt material up to 45.5 inches wide with cutting depths ranging from 1.5 to 6 inches deep. The unit can process, remix and level the rejuvenated asphalt to the desired depth and prepare it for compaction. www.bobcat.com
Fleetwest
Transferable service body
Fleetwest Transferable Truck Bodies has upgraded its Load'N'Go Powerbody, a transferable service body up-fitted with a generator, compressor, welder and battery booster/charger which universally fits Ford, Dodge, and GM 1-ton pickup trucks. Its features include a control panel in the side compartment and a 1,000-pound capacity slide-out parts drawer. The Powerbody now features the new AirNArc 150 All-In-One Power System with a beefier 18-horsepower Kohler engine. Power, storage, and the security of 16-gauge steel construction are the foundation of the truck body. Built-in forklift tunnels and lifting jack receptacles allow for easy installation, transfer to another truck and removal. Models are available for both long bed and short bed pickups and there is a universal fit for all major brand, standard pickup trucks www.fleetwest.net

Georgia Boot
Work boot collection expands
Georgia Boot's lightest general work boot collection, Eagle Light, has expanded for spring 2013 to feature all day comfort and stability for both men and women. The collection includes 6-inch and 8-inch lacers, as well as a pull-on style for those seeking an easy-on, easy-off boot. The women's 6-inch style is available in both soft toe and composite toe. Specs on the booths include: full-grain leather; lace locking eye hooks; comfort core footbed; Dri-Lex moisture wicking lining; flexible Opanka construction; composite toe on select styles; and self-cleaning oil resistant PU outsole. www.georgiaboot.com/
Western Star
Body Builder book
Western Star Truck Sales' updated Body Builder book, Version 2.1, features two- and three-dimensional generic truck model layout drawings and includes a downloadable comprehensive power take-off (PTO) compatibility section. Body builders can request pre-assembled three-dimensional (3D) model drawings consisting of primary component groups. The drawings can be obtained within 20 days of a truck build. A 3D XML file format that does not require special CAD software in order to view model drawings on a personal computer is offered. The book also includes a new PTO compatibility section, featuring specs and schematics for PTO controls, hydraulic pumps and mounting. The guide helps body builders determine compatibility between appropriate transmissions, engines and PTO mounting positions with respect to each Western Star truck model.
www.westernstar.com/BodyBuilderBook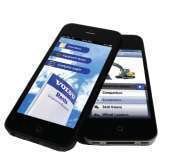 Volvo Rents
Streamlined iPhone app
Volvo Rents' streamlined version of its iPhone app allows users to access product information, new models and equipment specs, RSS feeds and company data. The updated app (originally introduced in July 2010), which is optimized for larger screens, includes full interactive manuals from different manufacturers. The app also includes "instruction" pages to help guide users through the various elements and content included. Additional features include: Linking all equipment specifications; images and documentation to content on the Volvo Rents website; new models and specs for Volvo CE, Genie and JLG equipment; specs for Doosan, Magnum and Wacker equipment; new Customer Credit Application; English and Spanish line cards and web links; and small user interface changes, enhancements and bug fixes. www.volvorents.com
Worksaver
Skid-steer attachment adapter
Worksaver's adapter is designed to allow the use of skid-steer type attachments on tractors equipped with Massey Ferguson 232/236/832/838/932/1032 loaders with pin-on buckets retained with 1-inch pins. The adapter can also be used with MF 238/246/848/938/1036/1038/1048 loaders that utilize 1¼-inch pins if bushings are used. The adapter offers increased versatility, an all-welded design, plated handles, springs and locking pins and is easy to switch.
www.worksaver.com/product/bale-options.html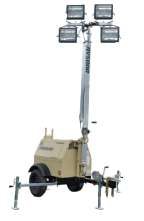 Doosan
Portable light tower meets Final Tier 4 regs
Doosan Portable Power's redesigned LSC portable light tower features a new powertrain, equipped with a Kubota D1005 engine. This 1,800-rpm water-cooled diesel engine meets EPA Final Tier 4 emission regulations. The power rating of the LSC has been increased to 6 kW with the use of a new high output alternator. This additional voltage allows operators to illuminate the unit's four 1,000-watt metal halide floodlights and use the receptacle power function simultaneously. Fuel tank capacity has also been increased, extending the LSC's runtime to 55 hours. The heavy-duty galvanized steel mast of the LSC extends from 12 to 30 feet. The mast is raised by dual, hand-operated winches and features an automatic safety brake. www.doosanportablepower.com
Davidson Traffic Control/Pexco
One-piece channelizer post
Davidson Traffic Control Products/Pexco's DP 200 EFX City Post is an ultra-high performance post with a slim, sleek profile and quick "spin-in" deployment. This all-polyurethane, one-piece channelizer post demonstrates quick, sharp rebound when impacted. The post features strenght and durability improvements; a new top-cap, giving the post the finished look of a steel bollard; four air holes in the cap that allow air to escape when the post is impacted; improved cosmetics with a higher sheen; and the flexibility and durability of engineered plastic polymers. www.davidsontraffic.com