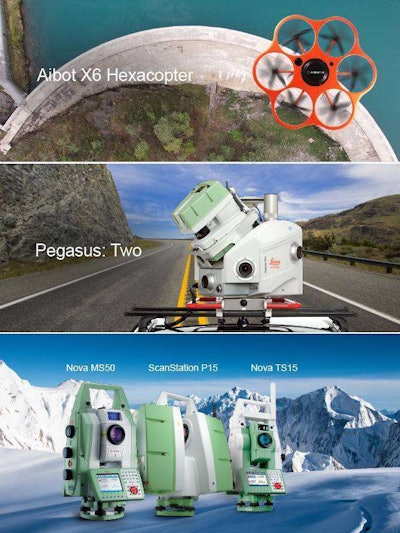 It almost seems symbolic that a seminar on innovative solutions that are shaping the future of transportation engineering is taking place on a historic battleship since moving our nation's infrastructure forward with a lacking of funding has been a real battle.
Next week, on Sept. 10, Leica Geosystems, in conjunction with the Surveyors Association of West Jersey, will host a special half-day educational event for transportation surveying and engineering professionals on the nation's largest battleship, the Battleship New Jersey, anchored in Camden, N.J. (The comparison and parallels I'm making between where the seminar is being held and the subject matter are all mine. Leica Geosystems didn't suggest them, but I just couldn't pass up the opportunity to make the comparison!)
The seminar will highlight technology advances "that are revolutionizing the way transportation projects move from conception to completion," according to Leica Geosystems.
Attendees will learn the following:
How forward-thinking construction teams are applying state-of-the-art vertical alignment systems and monitoring solutions to keep bridge support structures plumb.
How the latest generation of mobile LiDAR helps teams engineer more intelligent highways.
How an increasing number of projects are moving from 2D to 3D design through the empowering capabilities of leading-edge dedicated and integrated laser scanning solutions.
Professionals will also get an overview of the current state of UAVs and how this innovative technology will aid transportation engineering projects in the future.
Attendees can receive a course completion certificate, but they must pre-register for the event.
For more information or to register, click here.
Here is a little bit about the Battleship New Jersey:
Built at the Philadelphia Naval Shipyard and launched December 7, 1942, a year after the Pearl Harbor attack, the Battleship New Jersey (BB62) was a flagship during World War II and also served in the Korean War. The ship was decommissioned on February 8, 1991, and has since been restored and established as an educational museum and memorial.
In a real-world application of some of the solutions that will be highlighted during the upcoming seminar, the Battleship New Jersey is being digitally documented through a combination of HDS 3D laser scanning, high-dynamic range photography and standard survey techniques in a volunteer collaborative effort between Haag 3D Solutions and Leica Geosystems. The results of the digital documentation project will be used by the museum as a historical record and for ongoing maintenance and educational purposes. There is also the potential to create a virtual tour for veterans and other individuals who might be unable to tour the physical battleship.
The date this seminar is being held – Sept. 10 – is significant because the event marks the 150th anniversary of the founding of the Surveyors Association of West Jersey, a chapter of the New Jersey Society of Professional Land Surveyors (NJSPLS).