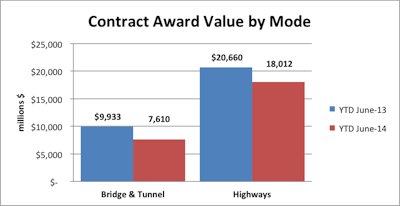 The value of highway and bridge contract awards was down 14 percent in the first seven months of 2014 when compared to the same period in 2013.
According to American Road and Transportation Builders Association (ARTBA), state and local governments awarded $29.8 billion in highway and bridge work between January and June 2014. When adjusted for material costs and inflation, $34.6 billion was awarded during the same time period in 2013.
The pullback in spending is likely due to the lack of a long-term Highway Trust Fund solution.
According to ARTBA's analysis of McGraw Hill data, 25 states awarded fewer highway and bridge contracts by June 2014 than they did a year ago while awards were actually up in 21 states and Washington, D.C. In five state awards were flat, neither up nor down more than five percent.