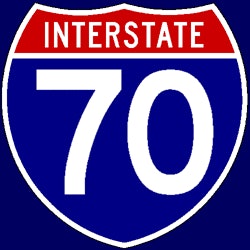 The Kansas Department of Transportation has announced a projected $1.2 billion improvement program for highways, bridge replacement and local projects throughout the state. The funds will create several short- and long-term highway and bridge construction jobs, with work expected to begin throughout 2015 and 2016.
The improvements are a continuing part of the 10-year T-Works project passed during the 2010 legislative session.
The largest projects include a $116 million expansion of the Interstate 235/US 54 Highway (Kellogg Ave.) interchange in west Wichita, and a $95 million expansion of Kellogg from Cypress to Wiedemann in east Wichita.
A handful of other projects are planned to take place as part of the $1.2 billion improvement program, including two major projects on Interstate 70 in western Kansas. $52.6 million will be used for 11.5 miles of improvements in Thomas County near the Logan County line; and $43.4 million for nine miles of improvement in Gove County near the Trego County line.
With all of the planned road construction, let's hope workers follow safety guidelines to avoid serious injury.