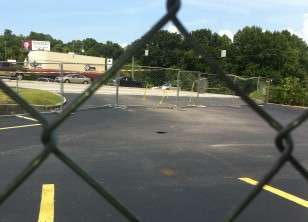 The Georgia Department of Transportation is evaluating a sinkhole that suddenly opened in a parking lot on John Morrow Parkway at Pearl Nix Parkway in Gainesville.
The sinkhole is approximately 12 feet wide and about 20 feet deep.
Georgia DOT is closely evaluating the sinkhole because it could have an impact on traffic in the area. Access to the Barry Menswear/Curves shopping center from Pearl Nix Parkway is now closed, but the access from SR 53 Connector/John Morrow Parkway is currently open.
"We are in the early stages of evaluating the damage to the roadway. We will develop a repair plan and projected timeline as the extent of damage is determined. Please avoid the area if possible," Georgia DOT District Engineer Bayne Smith said in a statement.
Sinkholes have caused transportation problems in the past. Hopefully the Georgia DOT will get its hands on some aggregates to fill the sinkhole up.