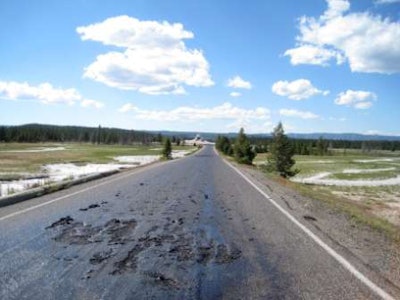 A 3.3-mile loop drive in Yellowstone National Park is temporarily closed after the park's thermal geology began melting the asphalt, the National Park Service (NPS) announced Thursday.
The affected roadway, Firehole Lake Drive, takes visitors past Great Fountain Geyser, White Dome Geyser and Firehole Lake.
"Extreme heat from surrounding thermal areas has caused thick oil to bubble to the surface, damaging the blacktop and creating unsafe driving conditions," NPS said in a prepared statement.
NPS said park crews are assessing damage and determining what repairs are needed.
According to report from the Associated Press, potholes and other damage to roads and walkways is not uncommon on the park. But, the damage to Firehole Lake Drive is more severe than usual and could take several days to repair.
According to the AP report, unusually warm weather could be partially to blame for the high underground temperatures in the area.