Western stainless steel MVP 3 V-plow
Western offers a stainless-steel version of its MVP 3 V-plow. Features include flared wings that extend from the center to the outer edges at varying heights depending on the model; blade widths ranging from 7 feet 6 inches to 9 feet 6 inches; and dual-trip edge protection to prevent damage to the plow or truck or injury to the operator when traveling over bumps and obstacles.
betterroads.com/western-ss-mvp-3-v-plow
Hyundai R35Z-9 compact excavator
Hyundai's R35Z-9 compact excavator, designed for use in tight work spaces, has a dig depth of 10 feet 4 inches; a bucket digging force of 7,050 pounds; a bucket capacity of 3.78 feet; and a tail swing radius of 2 feet 10 inches. Powered by a 26.5-horsepower Tier 4 Certified Yanmar 3TNV88 engine, the 8,050-pound machine features joystick and main control valve matching to aid in control during operation, an arm flow summation system for energy savings and an integrated boom holding system to avoid boom drift.
betterroads.com/hyundai-r35z-9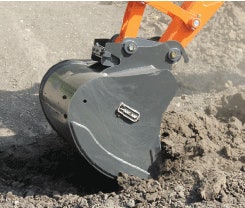 Doosan wedge lock coupler
The latest wedge lock coupler from Doosan, designed for use with the company's 6.61- 58.42-ton crawler excavators, allows operators to change attachments without the need for additional hydraulics and without decreasing the machine's breakout force. The coupler has a limited increase in tip radius compared to pin-on mounting as well as a swing ear design and bolt retainer safety plate to prevent attachments from falling.
betterroads.com/doosan-wedge-lock-coupler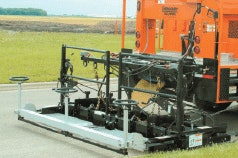 Bergkamp variable-width spreader box
Bergkamp offers its Variable Width Spreader Box (VSB), which is designed to offer flexibility in microsurfacing work. Available in 8- to 13-foot, 9- to 14-foot and 10- to 15-foot models, the VSB eliminates construction joints with its ability to expand and contract while paving. An optional 16-foot width is also available. The machine has two augurs to feed the material to the center of the box and two more augurs to evenly distribute the mix during placement.