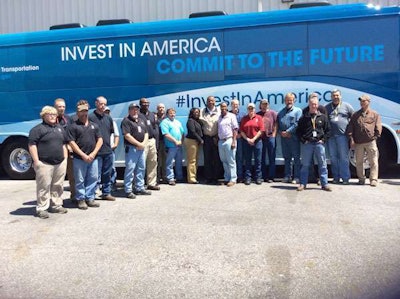 During his "Invest in America, Commit to the Future" bus tour, U.S. Secretary of Transportation Anthony Foxx took a grassroots approach to make the case for a robust multi-year Federal investment for transportation.
Talking with transportation heads while on tour, Foxx told me, calling from the road, awareness on Capitol Hill isn't the problem. "I think it's a far bigger problem is 'getting to yes,'" he says, referring to a negotiation strategy. "We are stuck on indecision." This indecision negatively impacts the Highway Trust Fund (HTF), which is just a few months away from insolvency. If the government cannot pay the bill to states, then states will need to scale back projects and will no longer be funding America's future.
Foxx says he and the U.S. Department of Transportation are "trying to reach out and to help everyday Americans understand the U.S. DOT's role…and ask them to encourage members of Congress to jump into conversations before we have a crisis."
The transportation community understands the ramifications of an insolvent HTF, but that's not always the case outside our industry. There have been 27-short term measures by Congress, 18 continuing resolutions and nine extensions for transportation funding. "We need to make those people who are stuck in traffic every single day and are frustrated because it's a longer commute than it was 10 years ago understand that this all links up to federal funding," Foxx says.
Foxx shared the story of Jana, a high school senior, he met in Birmingham, Alabama. This young lady gets up at 6 a.m. every morning and rides a city bus to a central terminal and then transfers to a transit bus to get to school. "When we talk about transportation as critical, we are talking about kids like Jana," Foxx says. "She needs that connection every day. If Congress doesn't figure out [a solution] before August or September, we won't be able to help kids like her get to school…and then we are jeopardizing our future."
Now is the time to speak up. Now is not the time to wait for another short-term measure, especially because states and municipalities then just stop planning and going through the engineering process for new infrastructure. Tennessee's transportation director told Foxx that the state is "preparing for the worst." That means if Congress doesn't figure out a solution, the state's entire road program will focus only on maintenance and will not build anything new. Foxx says he heard the same sentiments in Missouri.
"If that is what we are left with as a country," Foxx says, "if you talk about gridlock, it won't be in Washington, D.C. It will be on Main Street. There is no reason this has to be a partisan issue. There are no Democratic or Republican railways in America."
Let's figure out how to get to "yes."
Editor's note: To read more stories like this, check out the "Transportation Talk" section of Better Roads magazine each month.