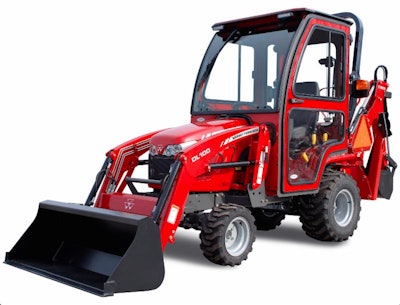 Cab enclosure manufacturer Curtis Industries LLC has released its cab system for the Massey Ferguson GC1700 Series sub-compact tractors.
The company offers two cab system options.
One option features and all-steel cab frame, doors and roof that are made of powder-coated commercial grade steel, as well as a tilt-out windshield and dual sliding glass windows. Another option features vinyl doors, a welded structural-steel frame, full perimeter weather stripping and clear vinyl rear panel.
The cab mounts independently of the existing factory roll-over protective structure (ROPS) and the total-seal door are pin-hinged to allow for easy removal. For tractors equipped for backhoe operation, the rear panel of the cab can be removed quickly and gas shocks support the pop-up roof.
Other cab features include lockable doors and a 12VDC windshield wiper. An optional rear wiper is available for the all-steel cab.
Customizable options include a roof-mount LED strobe and work lights, rear work lights, mirrors and heater.