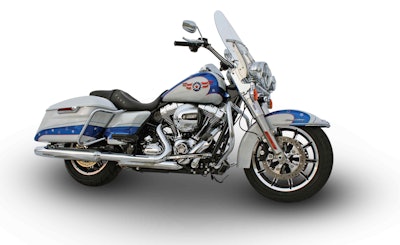 Get the chance to win a custom Harley at ConExpo-Con/Agg 2014 while learning about supporting U.S. manufacturing policies aimed at creating more jobs in our nation and keeping the U.S. economy competitive with other countries.
The Association of Equipment Manufacturers (AEM) will be giving ConExpo-Con/Agg attendees a chance to win the custom-painted 2014 Harley-Davidson Road King at its booth – and other prizes, too – as part of its advocacy for the association's "I Make America" initiative. The booth is No. 20051 in the Grand Lobby of the Las Vegas Convention Center.
The motorcycle will make its debut at the trade show before touring the country as part of a campaign to increase supporters and member company engagement in "I Make America."
Following ConExpo-Con/Agg, the Harley will hit the road to tour across America, visiting AEM member companies to encourage employees to sign up and participate.
Tour dates begin April 2 and run through September. The campaign ends Oct. 3, and the winner will be announced at AEM's Annual Conference in November.
"This giveaway is part of AEM advocacy's broader goal to get member companies and their employees engaged in I Make America and raise awareness of its mission to advocate for the interests of the equipment manufacturing industry," says AEM President Dennis Slater. "This year, the equipment manufacturing industry faces major legislative hurdles, including: passing a long-term highway bill; opening up global markets for our exports; protecting our nation's renewable fuel standards; and a comprehensive energy plan to boost U.S. competitiveness."
Slater urges industry professionals to speak up about those legislative needs.
"Every voice counts, and by building up our support for I Make America, we have a real opportunity to make a significant impact on our elected officials and the domestic policies that affect us most," Slater says.
The contest will officially launch on March 4, 2014. Entrants will be accepted both in person and via IMakeAmerica.com.