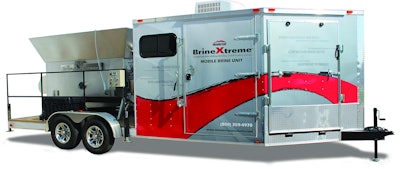 Henderson Products' new BrineXtreme mobile salt brine solution produces professional grade salt brine no matter the location.
With an ability to work in temperatures as low as -6 degrees F, the machine can perform pre-storm applications that prevent snow and ice from bonding to the road's surface.
The BrineXtreme measures concentration by density, which negates changing temperatures to produce a concentration that is accurate to 0.001 SG.
The machine has a production rate of up to 160 gallons per minute and a 5-cubic-yard capacity.
Other features include automated operation from tank to truck, automated cleanout, an enclosure that protects salinity control and blending module, a large touchscreen display, event logging data, data log printing, remote access and a truck fill range of 20-400 gallons per minute.
Also available are options such as blending module and truck fill station.