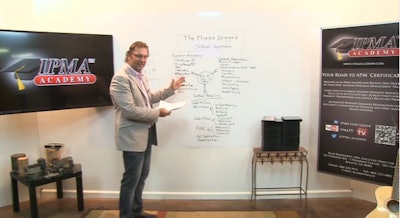 The International Pavement Management Association (IPMA) has set the record straight with its video about pavement preservation myths.
Blair Barnhardt, accredited pavement manager (APM), founder and executive director of IPMA, hosts the video, debunking four myths:
1. Pavement preservation is expensive.

2. Free training is always unbiased.

3. We have to continue to pave the way it has always been done.

4. Asphalt lasts 20 years.
Some other highlights of the pavement preservation video include:
A discussion on how to calculate your network level replacement value of roadways along with the percentage of that value that needs to be spent each year to maintain roadways. (11-minute mark)

Barnhardt's promise to "prove" that pavement management doesn't cost money, but that it actually costs money not to manage pavements. (13-minute mark)

How it will be possible for all of the asphalt paving contractors in America to increase their hot mixed asphalt tonnage output per annum to 800 million tons.
To watch the video, visit ipmaacademy.com/v2-pavementpres.
For a downloadable PDF of the pavement preservation notes that accompany the video, click here.
See the photo to the right for information about the "Three-Legged Stool System" discussed in this video and the others in this series.The "Three-Legged Stool System" includes Pavement Management, In-Place Recycling, and Pavement Preservation.
Be sure to check out these related videos: