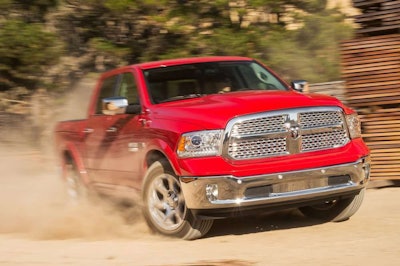 The first 2014 Ram 1500 EcoDiesels could start arriving at dealerships in February, our sister site Equipment World reports.
Chrysler Group will start assembling the pickups later this month, and about 1,000 pre-spec versions will be made and distributed in the next few weeks.
The truck is powered by a 3.0-liter diesel engine that delivers 240 horsepower and 420 foot-pounds of torque. The engine is produced by Fiat-owned VM Motori.
Equipment World notes that the engine also provides a 26-mile-per-gallon fuel economy.
The EcoDiesel package will cost $2,850 more than the comparably-equipped Ram with a 5.7-liter Hemi V-8.
Dealers are expected to start taking customer orders sometime in February.