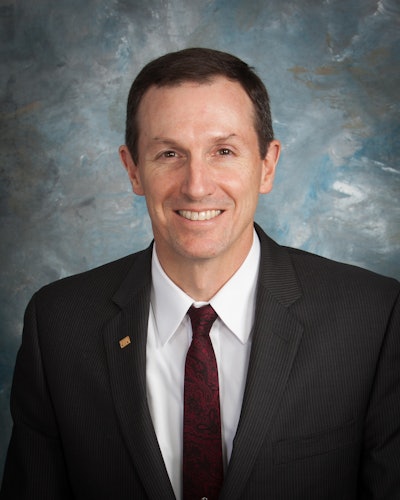 The National Asphalt Pavement Association (NAPA) has named Michael M. Cote as its 2015 Chairman at a ceremony during the association's 60th Annual Meeting on Monday. As chairman, Cote will be responsible for guiding NAPA's efforts to support and advance the asphalt pavement industry.
Cote is executive vice president and chief development officer for The LANE Construction Corp., based in Cheshire, Connecticut. The company specializes in heavy civil construction services and products for the transportation, infrastructure and energy industries with some 60 asphalt plants and 12 quarries across the eastern United States.
Cote takes over as NAPA Chairman at a time when a series of industry-backed research projects are being completed. These efforts will help quantify the high-performance attributes of asphalt pavements, and will be supported by industry marketing and deployment efforts to deliver information about pavement innovations to departments of transportation, public works agencies, and other road owners.
"It is an exciting time for the asphalt pavement industry. We face many challenges — from uncertainty in Washington about how to fund needed investment in our national infrastructure to a strong competitive threat from alternative paving materials — but I am certain we are well aligned to ensure drivers continue to enjoy smooth, safe, easy-to-maintain asphalt pavements for the foreseeable future," Cote said in a statement.
Cote has been an active member of NAPA since The LANE Construction Corp. joined the association over a decade ago. He has served on multiple committees and task forces focused on industry innovations and best practices, including the Warm-Mix Asphalt Task Force, which helped bring energy-saving WMA technology to the U.S. Most recently, he was a leader of an industry scan tour of Japan that sought to understand how Japanese roadbuilders are making quality pavements from mixes that incorporate very high levels of reclaimed asphalt pavement.
"Being the leader for the industry and putting innovation into practice is something NAPA has always done, and will continue to do," says Cote. "I am proud to be a part of that, as are all NAPA members."