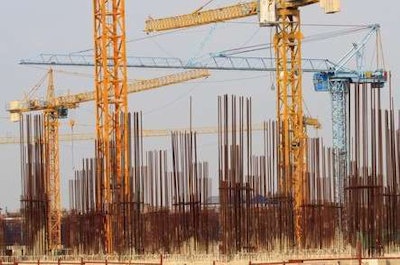 After seeing its first drop in one year during June, construction spending in the U.S. fully recovered and then some in July, with its largest monthly gain in more than two years.
Construction spending rose 1.8 percent to a seasonally adjusted annual rate of $981.3 billion in July, according to preliminary estimates by the Commerce Department. The gain is the largest since May 2012 and follows an 0.9-percent drop in June. More good news: June's drop wasn't as bad as originally feared. The Commerce Department revised the figure up from a 1.8-percent drop.
Total spending is now up 8.2 percent year-over-year and is at its highest point since December 2008.
The largest percent gains during the month came from government spending. Overall public spending rose 3 percent to $279.6 billion. Public nonresidential spending saw its largest gain since October, rising 3 percent to $274.2 billion. Highway and street construction spending saw the biggest percent gain in the public sector during the month with 6.9-percent growth to $85 billion. On July 31, Congress passed a $10.8 billion highway funding patch that will keep the Highway Trust Fund solvent for 10 months.
Government residential spending saw a 4.2-percent increase to $5.4 billion.
Construction spending in the private sector saw an overall gain of 1.4 percent in July to $701.6 billion. Nonresidential saw the largest percent gain in the private sector during the month, growing 2.1 percent to $343 billion. Power led nonresidential spending with a 7.5-percent gain to $98 billion, followed by manufacturing with a 4.4-percent gain to $58 billion and lodging with a 2.8-percent gain to $15 billion.
Homebuilding saw a 0.7-percent increase to $358 billion and is 8 percent above where it stood one year ago. Single-family home construction spending rose 0.5 percent to $187.1 billion. Apartment construction rose 0.2 percent to $43.2 billion.
Overall residential construction spending was up 0.7 percent in July at $363.4 billion. That figure is up 7.6 percent from the previous year. Overall nonresidential spending was up 2.5 percent to $617.8 billion, up 7.6 percent year-over-year.
This article was written by Wayne Grayson, Online Managing Editor of Equipment World.