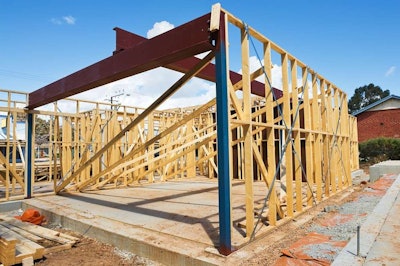 Construction spending in the U.S. fell 1.8% in June for the first drop in one year.
Construction spending fell to $950 billion in June from the revised May figure of $967.7 billion. Due to the revision of that figure, what was a 0.1-percent increase in May is now an 0.8-percent increase.
Total spending is up 5.5 percent year-over-year.
Government spending represented the largest percent drop in June falling 4 percent $264.6 billion. Public residential construction's 6.3-percent gain to $5.4 billion was well offset by a 4.2-percent drop in nonresidential spending to $259.2 billion. The lone public nonresidential gain came in conservation and development projects up 12.5 percent to $8 billion. The largest losses came in highway and street spending, down 10.4 percent to $75.2 billion and commercial projects, down 7.1 percent to $1.7 billion.
With the Highway Trust Fund teetering on the verge of insolvency, the U.S. Department of Transportation was set to begin ceasing funding to state highway projects today before a last-minute bill was passed by Congress late Thursday night. The $10.8 billion patch will fund the HTF through next May and was passed by the Senate after being passed back and forth between both chambers of Congress.
Construction in the private sector fell 1 percent in June to $685.4 billion. Private residential construction spending fell for the second-straight month, 0.3 percent to $356 billion. Homebuilding remains 7.4 percent above where it stood one year ago.
Single-family home construction spending fell 1.4-percent to $184.2 billion while apartment construction rose 2.5 percent to $41.8 billion.
Private nonresidential fell 1.6 percent to $329.5 billion. Leading gains there were amusement and recreation which rose 2.1 percent to $7.5 billion, and religious, up 0.5 percent to $3.7 billion.
Overall residential construction spending was down 0.2 percent in June at $361.3 billion. That figure is up 7.1 percent from the previous year. Overall nonresidential spending fell 2.8 percent to $588.8 billion, up 4.6 percent year-over-year.