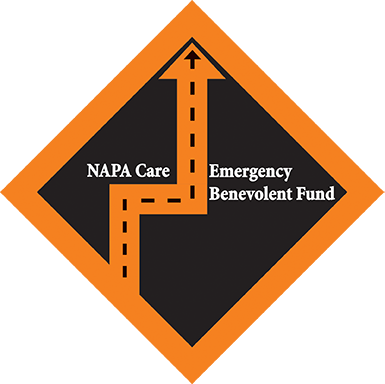 It's great to see an industry that takes care of its own.
At the National Asphalt Pavement Association (NAPA) Mid-Year Meeting in Nashville I attended Monday and Tuesday this week, I noticed a flyer about the "NAPA Care" Emergency Benevolent Fund. I was curious about it, so I picked it up and started asking the NAPA staff questions about what it is and how it works.
It is a fund that was launched in 2012 to help provide immediate financial assistance to NAPA Member employee families who have suffered a fatality in an asphalt work zone or plant site. The fund operates under the National Asphalt Pavement Association Research & Education Foundation, Inc. (NAPAREF), a 501 (c)3 organization.
This is such a wonderful idea. It's tragic enough when someone's spouse, mother, or father – or any immediate family member – is killed in an asphalt work zone or at a plant site. But having to worry about whether they'll be able to buy groceries, pay for a funeral or help fly in family members for the funeral arrangements should be the least of worries.
This fund is a wonderful way to help out member families at such a tragic time. As soon as the NAPA Care Committee receives the benefit form (The NAPA member company is responsible for reporting and verifying the incident to NAPAREF), a financial assistance check in the range of $4,000 to $5,000 is written and sent overnight to the member company, who then hand delivers the check to the deceased's family. The recipient of the check does not need to record the gift as income, either.
All donations to this fund are tax deductible and may be made by NAPA members or any affiliated organizations. Currently, NAPA is working to raise enough money to get this fund endowed. At the NAPA 2016 meeting, the association's management told Better Roads that there are plans to hold a silent auction to help raise money.
Roger Sandberg, ambassador-at-Large, sales and marketing, for Maxam Equipment, and NAPA associate member and chair of the NAPA Care program, says the fund so far has helped out 11 families.
"This is just some financial assistance to help them get through this time," Sandberg told me at the NAPA Mid-Year meeting in Nashville. "The families of those affected shouldn't have to need to worry about how they are going to get groceries or get the kids home for the funeral. The industry wants to make sure to take care of its own."
Click here to read more about the NAPA Care program.
Click here for a downloadable PDF of the NAPA Care Emergency Benevolent Fund benefit request form.
To make a donation to the NAPA Care Emergency Benevolent Fund with this downloadable PDF form, please click here.