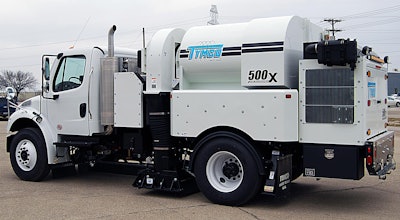 TYMCO has updated its Model 500x High Side Dump Regenerative Air Street Sweeper with a Tier 4 Interim (Tier 4i) engine.
A 115-horsepower John Deer Tier 4i engine now powers the sweeper, which previously used a John Deere Tier 3 auxiliary engine.
The Model 500x now features a redesigned engine compartment to improve serviceability of the new engine. Features include a larger hydraulic oil cooler, a new high performance Donaldson PowerCore air filter assembly with integrated pre-cleaner and modified wire and hose routing.
The new engine delivers a more than 3.6-decibel average sound power reduction and a more than 5.4-decibel maximum sound power reduction compared to the Tier 3 Model 500x.
In addition to the engine update, the sweeper also includes a new control panel and high resolution color display.
The control panel eliminates several switches to simplify operation, while the display delivers on-board diagnostics for the TYMCO BlueLogic Control System and the auxiliary engine's Engine Control Unit (ECU), as well as a several quick-glance status dashboards such as sweeper functionality, engine functionality, lifetime and trip hour meters, sweeper and engine service interval hour meters