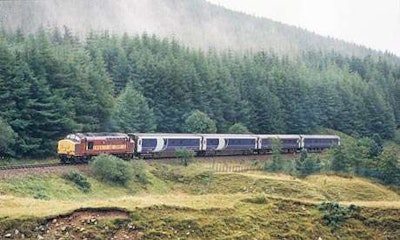 When I think of Scotland, I envision castles, kilts, breathtaking nature and an array of fresh produce. But I guess I should now add trains to my list.
The country is updating its Caledonian sleeper franchise, adding "quality of service" as an important point for bidders to address. So instead of just taking the lowest bid, the Scottish Government officials are looking for trains that are "emblematic of Scotland" when they review bids.
"We want people to step into Scotland when they join the sleeper," said Transport Scotland, according to The Scotsman.
And the government means business: They will use £60 million of Scottish Government money to upgrade the 40-year-old carriages, £10m more than previously announced.
It should be interesting to see what direction the bid winner, who will be announced in 2014, will take with this rail service. If they take my advice, the cabins will be castle-themed, have large windows to enjoy the nature and serve fresh food, and the crews will wear kilts.