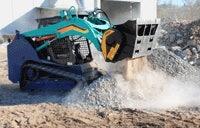 MB, a leading producer of crushing attachments with thousands of machines operating on excavators around the world, now offer the smallest crusher on the market and the biggest crusher bucket in the world, according to the manufacturer.
MB's two skid-steer loader mounted crushers, the MB-L 160 and MB-L 200, will allow the users of skid-steers to crush material with extreme efficiency.
They are specifically engineered to work within the specs of the skid-steers and loaders. MB America is already answering many calls from customers that want to improve the capabilities of their equipment fleet.