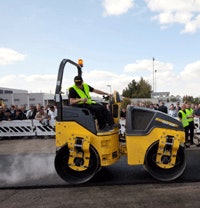 Designed with comfort and productivity in mind, the new BOMAG BW138AD-5 tandem vibratory roller features dual travel levers, a foldable ROPS, and larger drum diameter for enhanced asphalt compaction performance.
Powered by a Tier 4i 44.6-horsepower, water-cooled Kubota diesel engine, the BW138AD-5 delivers a maximum centrifugal force of 10,800 pounds. Offering a working width of 54.3 inches, the roller includes larger 35.4-inch diameter drums and provides dual vibration frequencies of 3,480 or 2,820 vpm for more efficient compaction and better surface quality results. Additionally, the roller's bolt-on oscillating and articulating joint improves maneuverability by allowing the rear drum to follow the same path as the front drum while turning.
A suspended and vibration-isolated operator's platform includes a fully adjustable seat for added comfort, while allowing clear visibility of the drums. Operator efficiency is enhanced with multifunctional dual travel levers and Smart Drive steering wheel that provides more working room and a full view of all machine controls.
The BW138AD-5 is equipped with a pressure water sprinkler system that includes a high-capacity 81.9-gallon water tank for extended operation intervals between refills. Filtered spray nozzles and automatic interval sprinkler control contribute to water savings, while solid windscreens ensure that the drums receive sufficient coverage even in windy conditions. Flexible, spring-actuated scrapers further contribute to optimum water distribution.
Requiring no daily grease points, the roller is very easy to maintain. Its durable composite hood allows efficient access to the engine, while modern circular instrumentation on the dashboard includes warning signals, an hour meter and a fuel level indicator. Accessible lashing rings, a single lifting point and integrated towing hook combine to make transport easy and reduce unloading times.
Standard safety features on the BW138AD-5 include foldable ROPS with seat belt, back-up alarm, emergency stop button, and front and rear working lights for night operation. The roller's engine hood and instrument panel are also lockable to protect against vandalism.
For more information on the BW138AD-5 tandem vibratory rollers or the complete BOMAG Heavy product line, including single-drum vibratory rollers, tandem vibratory rollers, steel-wheel rollers, pneumatic-tired rollers, recyclers/stabilizers, milling machines, and refuse compactors, contact BOMAG Americas, Inc., 2000 Kentville Road, Kewanee, IL 61443, call 309-853-3571, toll-free 800-782-6624, fax 309-852-0350, e-mail info.bomag@bomag.com or visit the BOMAG website at www.gobomag.com/asphalt-rollers.