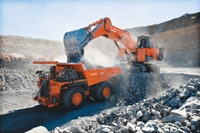 Moline, IL — Since its release in January 2008, the EX5600-6, as well as Hitachi's other ultra-large hydraulic excavators — the EX8000-6, EX2500-6, EX3600-6, and EX1900-6 — have been highly valued by global mining customers, including major mining companies, for their production and high availability, based on reliability. In response to requests by mining owners and operators to increase the production capability without significantly increasing footprint, Hitachi is proud to introduce the new EX5600-6.
The EX5600-6 has a number of improvements, while retaining many proven features. It is heavier than its predecessor, has more engine horsepower, and the BE-backhoe version has increased bucket capacity. Estimated productivity increases are 17 percent for the short-reach BH backhoe, and 12 percent for the loader version. Loading time per truck has been lessened as well.
What's New
The bucket capacity for the EX5600-6 backhoe version has been increased from
29 m3 (38 cu. yd.) to 34 m3 (44.5 cu. yd.). The reach of the backhoe front attachment has been shortened and the engine output boosted to achieve higher productivity with a cycle time equivalent to the -5 version. The loader bucket capacity has been increased as well, from 27 m3 (35.5 cu. yd.) to 28 m3 (38 cu. yd.).
Hydraulic pump output has been increased by ten percent, without degrading conventional cycle time performance. This results in the higher flow rate at the same pressure. Higher flow rate means faster speed. Pump speed is increased through a change in the pump drive gear ratio change.
The hydraulic oil cooler has changed. The manufacture of the core has been changed, along with the type of core row and fin shape. Fan speed has been increased to provided additional cooling capacity due to increase in hydraulic HP.
Inside the cab, LED lighting has been adopted for longer life and less heat generation. An optional interface with major mine management systems commonly used in many mine sites, including Wenco Fleet Management Systems (provided by Wenco International Mining Systems Ltd., a subsidiary of Hitachi Construction Machinery Co., Ltd.) is also available.
Although the Cummins engine model number remains the same, it is a different engine configuration to provide the increased horsepower. There is now a spin-on type filter for pilot system for easier serviceability.
Tried and True Features Still Retained
The EX5600-6 is offered in both backhoe and loader shovel configurations. The exclusive auto-leveling crowd mechanism increases job efficiency with one-lever control. Hitachi's computer-aided Engine-Pump Control coaxes optimum efficiency from the engine and hydraulic pumps. This innovative system senses load demand and controls the engine and pump output for maximum operating efficiency.
For the undercarriage and hydraulic cylinder etc., parts common to the original EX5500-6 are used. The cab remains the same — roomy and comfortable with an air suspension seat, low-effort short-throw levers with electric fly-by-wire, and support for diagnosing the failure portion via the monitoring function of the large size LCD monitor. Provisions for extreme operating conditions, from tropical to arctic, are still available.
Also retained are the convenient 45-degree folding-type service ladder and Hitachi Global e-Service enables owners to download critical field data to their office for remote field monitoring. Complete Machine Information Center (MIC) data can be downloaded in the field with a laptop.
For more information about the new EX5600-6 in North and South America, go online to www.hitachimining.com or visit your local Hitachi dealer.