Canadian new construction spending continues to rise
As the construction sector in the United States crawls … ever soooo slowwwwwly … toward recovery, the relatively smaller market immediately to the north continues to generally churn on.
Spending on new construction in Canada will rise to $301.4 billion (Cdn) by 2014, says Alex Carrick, chief economist with Reed Construction Data. If that forecast holds, it will represent a near doubling in a decade, based on the 2004 figure of $154 billion.
Tabled June 6, the first budget of the recently-elected majority government of Conservative Prime Minister Stephen Harper brought likewise good news for the Canadian Construction Association (CCA), which lauded Ottawa's intention to strengthen public infrastructure by introducing legislation to formalize the current $2 billion annual gas tax fund transfers to municipalities. The federal government also intends to work with provinces, territories, municipalities and other stakeholders to develop a long-term plan for public infrastructure that extends beyond the shelf life of the Building Canada Plan.
"Within the next 10 years, much of our infrastructure will need to be replaced or expanded to avoid economic stagnation," says CCA president Michael Atkinson. "Canada needs to remain focused on the renewal of these critical assets as they are the foundation of our economy and the pillars that support a competitive and export-focused Canadian economy."
While not necessarily good news for exports or tourists, there is more good economic news for Canadians. In sharp contrast to the early 2000s when a Canadian dollar could be had for 62 cents US, the Canuck buck has consistently remained above par throughout the recent global economic recovery.
– Mike Anderson
Do You Have What it Takes?
If you think you're the best operator out there, you could have a shot at showing off your skills on TV. Caterpillar is sponsoring "American Hard Hat," a reality competition series to air on the Travel Channel. Using Cat machines, contestants will go head to head to prove they are the best construction worker on the job. To apply for the series, you must be at least 18 years of age and an experienced heavy machine operator. Applicants must answer a series of questions, submit photos and make a casting video. In addition to equipment expertise, the show is looking for contestants who display a colorful personality, a good sense of humor and hometown pride. To view the application form, scan the tag in the box with your smartphone.
– Amy Materson
Demolition textbook launches for e-book readers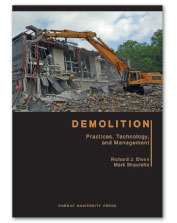 The National Demolition Association has launched Demolition: Practices, Technology, and Management for all e-book readers, including the Kindle, Nook and iPad. The textbook, co-authored by demolition expert Richard J. Diven and Purdue University assistant professor Mark Shaurette, Ph.D., includes basic demolition knowledge as well as best practices and standards. Useful for college students studying construction management, the textbook is also used as a training tool for demolition contractors, says Michael R. Taylor, executive director of the NDA. "The full range of technical issues such as project management, disaster response, demolition project safety, and material handling and recycling covered in the book focus on the real-world skills needed to take on and safely complete demolition projects," Taylor says.
Digital Exclusives for July
Marketplace Extra: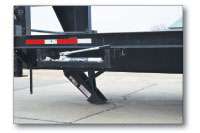 New products including Esco's Brake Safe, ProBuilt's SmithLight LED work light, Double R Industries' Powerjack System hydraulic trailer jack and more.
From Better Roads:
Editor-in-Chief John Latta interviews Secretary of Transportation Ray LaHood.
Weigh in …
Take our poll! Visit www.EquipmentWorld.com and scroll down the left side of the homepage.
Our current poll:
Does your company perform disaster-response work?
Results from our last poll:
Have you changed your rental strategy for 2011 (84 respondents)?
* Yes, I plan to decrease rental in 2011. –37%
* Yes, I plan to increase in 2011. — 23%
* No, I will rent the same volume of equipment as in 2010. — 40%
Network with us!
Connect with EW on Facebook, LinkedIn and Twitter. Enter "Equipment World" in the search field, join the group or "like" EW and stay updated on news and events while networking with fellow industry members.
Subscribe to our YouTube channel!
www.youtube.com/equipmentworld.
Facebook page:
https://www.facebook.com/EquipmentWorld/
LinkedIn:
https://www.linkd.in/EWmagazine
Follow us on Twitter:
https://twitter.com/#!/ConstructList/lists/rrconstruction
Correction: On page 63 of the June issue of Equipment World, we incorrectly identified two photos. The Lincoln Electric Vantage 500 was identified as the Miller Trailblazer 302 Air Pak. The Trailblazer was identified as the Vantage. We regret the error.