It's a natural gas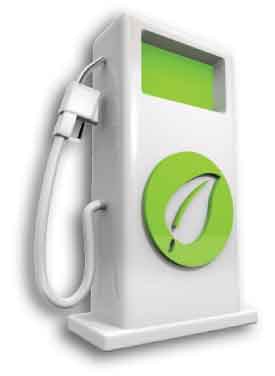 Diesel alternatives making headway in the work truck world
By Jack Roberts
Several years ago, the National Truck Equipment Association (NTEA) Work Truck Show aligned itself with the newly born Green Truck movement. This partnership, that seemed so unlikely at first, has proven to be highly prescient given the alarming spikes in gasoline and diesel prices experienced in 2007–2008. Over the years, the Work Truck Show has evolved as a showcase for the latest in alternative fuel vehicle technology. And this year, with fuel prices once again climbing skyward at an alarmingly fast rate, the show's emphasis was clearly on low cost of vehicle ownership throughout the lifecycle of a work truck.
The stars of this year's show in Indianapolis last month were natural gas-powered vehicles – a market segment that is maturing rapidly, particularly in terms of infrastructure (i.e., refueling) issues and an ever-widening array of product offerings for every imaginable vehicle application. Virtually every OEM at the show proudly displayed new propane (LPG) or compressed natural gas (CNG) vehicles in their booths. A wide array of new hybrid-drive trucks as well as all-electric trucks also took their turn in the spotlight.
But it appears at this early juncture that LPG and CNG drivetrains are quickly taking the lead as the alternative fuel of choice as the costs of diesel and gasoline approach the $4 a-gallon mark. At a Green Truck Ride-n-Drive for editors during the show, I was able to take several LPG and CNG vehicles out on the road to see just how well they performed. The results are surprising. These spark-ignited, clean-fuel burning engines are typically as quiet as gasoline engines. Indeed, in most cases, a driver would not be able to tell much of a difference between a natural gas engine and a gasoline one. And while it is true that natural gas does not possess the power density of diesel or gasoline, the difference from behind the steering wheel is actually negligible: I found throttle response to be noticeably peppy during my test drives. Unless you encourage your drivers to drag-race your trucks, I simply don't think this power density difference (roughly a 10-percent depreciation compared to gasoline engines) is a major inhibitor to adopting this technology. A similar reduction in overall vehicle range when using natural gas engines would be an obvious disadvantage in long-haul applications. But the fall-off is relatively minor and would not pose any major problems for construction trucks working in a specific geographic area and returning to a set location every evening.
And the best news is that the United States currently has one of the largest supplies of natural gas reserves in the world. Even better news is the fact that, as of this writing, propane and natural gas is currently selling for around $2.15 a gallon.
There is no doubt that diesel will continue to be the fuel of choice in construction trucking applications for the foreseeable future. But as diesel prices rise, fleet managers will be happy to know there are increasingly viable alternatives to gasoline and diesel on the market now that can help alleviate skyrocketing operating costs.
New products from NTEA Work Truck Show
by John Latta, Editor, Better Roads
Western Star's newest star
Western Star Truck Sales introduced an all-new Class 8 vocational truck, the 4700. With a 110-inch BBC (bumper to back cab) length, and available in a set-forward or setback configuration, the truck is the "ideal solution to meet the needs of the dump, mixer, crane, roll-off, sewer-and-vac and plow segments," says the company. Powertrain options include the Detroit Diesel DD13 and the Cummins ISC and ISL engine. A broad range of transmissions is also available, including the latest Eaton Ultrashift PLUS and the Allison 3000 and 4000 series.
The truck features a galvannealed steel cab, a newly-designed sloping hood for better visibility, and a 55-degree wheelcut for better maneuverability. The truck's body-builder interface connectors and transmission control unit is located in-cab. There is also a bolt-in pass-through plate in the cab floor that eliminates unnecessary drilling and an easily accessible routing path for wiring.
In-cab batteries free 17 to 24 inches of rail space for body equipment installation, and the 4700's DEF and air tanks can be placed under the cab to free additional rail space. Air and electrical lines are suspended away from the frame rails to reduce rubbing and to allow road debris to pass behind them rather than build up in the bundle.
Visit EquipmentWorld.com/info
Hino hybrids
The new Hino 155h and 195h Diesel-Electric Hybrid cab-over-engine trucks were designed from the ground up for the North American market, says the company.
The Class 4 and Class 5 diesel models will be available starting in August of 2011 at Hino Trucks dealerships. The hybrid models will follow a "roll out" approach and will be available in the following markets in December this year: New York; Philadelphia; Washington, D.C.; Chicago; Atlanta; Dallas; Houston and California.
Visit EquipmentWorld.com/info
The Perks of propane
A Ford E-350 cargo van equipped with a Roush CleanTech liquid-propane autogasinjection system and a CleanFuel USA propane autogas refueling dispenser on a portable platform debuted at the show. It is part of a line of trucks and vans developed with support from the Propane Education & Research Council (PERC).
More than 15 million vehicles globally are fueled by propane autogas, including pickup trucks, vans, school buses, shuttles, taxis and delivery vehicles. Ninety percent of U.S. propane supplies are produced in the United States. PERC says propane autogas burns cleaner than gasoline or diesel, with up to 20-percent less nitrogen oxide, up to 60-percent less carbon monoxide, 17-percent fewer greenhouse gas emissions and fewer particulate emissions.
Visit EquipmentWorld.com/info
TerraStar goes four wheeling
Navistar unveiled the International TerraStar 4×4 commercial truck at the show. A 4×2 model was launched last year.
The new truck features a 300-horsepower, 6.4-liter MaxxForce 7 V-8 engine, delivering 660 foot-pounds of torque. This engine features a compacted graphite iron (CGI) block that offers high strength without added weight. The TerraStar features MaxxForce Advanced EGR emissions technology.
The TerraStar features what Navistar says is best-in-class visibility. With an industry-best 107-inch BBC, it offers outstanding maneuverability. There is room for three adults to fit comfortably in the front seat. The TerraStar is also available with optional extended cab or crew cab configurations. EW
Visit EquipmentWorld.com/info