Sneak Peek from the Big Show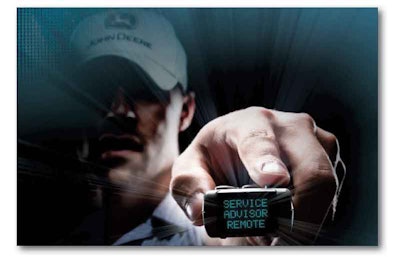 One fascinating launch at the CONEXPO-CON/AGG show this month is John Deere's Service Advisor Remote. The pre-show teaser is intriguing: by tapping into your Deere Tier 4 Interim machine's telematics, a Deere dealer will be able to remotely diagnose and fix a diagnostic trouble-code problem. (It also works on some of the company's Tier 3 equipment.)
Working through Deere's JDLink Ultimate advanced telematics, dealers can now retrieve codes on a regular basis, keeping watch over engine, exhaust, hydraulics, transmission, joysticks, etc. Deere cites the example of a sealed-switch module repair on a 744K wheel loader involving software replacement. Even though the dealer was 90 miles away, it repaired the problem in 15 minutes – a repair the company says used to take the better part of a day.
If the problem involves hands-on repair, remote monitoring helps the technician know what he's facing, and he can arrive at the jobsite with the replacement part in hand.
– Marcia Gruver Doyle
Wells Fargo: optimism up
Well Fargo Equipment Finance's first quarter survey shows a "moderately positive" 96 optimism quotient going into 2011. The survey, conducted in mid-January, queried contractors, dealers and service suppliers about their expectations for local construction activity. The 96 was a marked improvement over the 2010 score of 66 and the all-time low score of 42 recorded in 2009. Even so, when asked when they expected non-residential activity to improve, 71 percent said "second quarter 2012 or beyond." Around 66 percent of dealers questioned said they expect sales of new equipment to increase over 2010.
28% The number of contractor respondents who say they plan to purchase new construction equipment in 2011 in a mid-December survey conducted by the Associated General Contractors of America. This is down from the 34 percent who reported they would buy equipment in a similar survey conducted last year. There is good news, however: Firms report plans to spend nearly $900,000 on average for new equipment, up from an average of $671,000 last year.
Cashman makes concrete move
Cashman Equipment, a Nevada-based Caterpillar dealer, is the first equipment distributor in North America to partner with concrete paving equipment manufacturer Terex Bid-Well. Previously, the Bid-Well product offering – now part of Terex – was only sold direct to customers.
The addition of Terex Bid-Well products allows Cashman to supply its Nevada customers with bridge deck pavers and overlay machines, road and airport pavers, texturing/curing machines, work bridges, and slope and canal work pavers.
– Mike Anderson
Website helps unload surplus inventory
Looking for a way to cost-effectively shed that excess inventory? A website launched at World of Concrete aims to connect buyers and sellers in a construction-only marketplace, www.zamray.com. Instead of trying to return material to the supplier or find another use for it, contractors can post a 90-day classified ad for $25. Buyers can search the site by material type, geography or price, and ZamRay has a partnership with an escrow partner, Escrow.com, the participants can use for protection from liability during the sale.
The site can also be used for buying and selling construction equipment and vehicles, posting resumes or jobs and joining a service directory for project bid opportunities.
– Amy Materson
Digital exclusives for March
Marketplace Extra
See more new product launches including Danuser's Wobble Auger, Kasi Infrared's Patriot truck for seamless asphalt repair and Mustang's 3300V skid steer.
Highway Contractor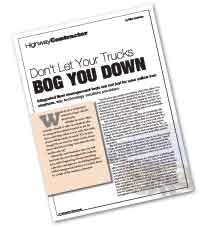 (From sister publication Better Roads)
Don't let your trucks bog you down
Integrated fleet management tools improve productivity across the board.
Network with us!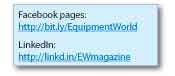 Connect with EW on Facebook and LinkedIn.
Enter "Equipment World" in the search field, join the group or "like" EW and stay updated on news and events while networking with fellow industry members.
Subscribe to our YouTube channel! www.youtube.com/equipmentworld.