By Equipment World Staff
CONEXPO-CON/AGG adds to show lineup

Start your planning early with an online database showcasing the latest technology and equipment updates you'll see in Las Vegas. The database, which can be accessed by visiting www.conexpoconagg.com and clicking on the new products and technologies link, is searchable by industry, equipment manufacturer and sustainability features.
This year's show also includes an event focusing on green highway construction. The "Green Roads Summit" will be held March 24 and will cover topics including recycling and reuse, stormwater management, climate issues and more. For more information on the event, visit the CONEXPO website and click on the Education section.
For more information on products you'll see at the show, check out our CONEXPO-CON/AGG products section on page 65. And in February, look for our Show Planner, which will be polybagged with the magazine.
$nowstorm$
What do snowstorms that shut down our highways really cost? Hundreds of millions of dollars a day, according to the American Highway Users Alliance and IHS Global Insight, which produced a study last year estimating the economic impact of snowstorms in 16 U.S. states and two Canadian provinces.
Worst hit? Hourly workers are the most harshly impacted by such shutdowns, says the study.
"Lost wages of hourly workers account for about two-thirds of the direct economic impact of a major snowstorm," says James Gillula, managing director of Global Insight and the principal researcher of the study.
Greg Cohen, Highway Users president and CEO, says: "The shocking losses estimated by this study should light a fire under state and local authorities nationwide to get serious about investing in quicker and more effective snow and ice removal. When roads are left unsafe or impassible, it is like money being thrown down the drain."
The study further examined the indirect economic impacts caused by snow closures, including lost sales tax revenue and significant losses in the restaurant, general merchandise and gasoline industries. These indirect impacts more than doubled the initial direct impact of each storm.
44 Percent of nonresidential contractors said the ARRA stimulus funding had not helped the construction industry in a survey conducted in November by FMI.
The top 5 states and provinces covered by the study include:
New York, $700 million lost per day
Ontario, $474 million lost per day
Illinois, $400 million lost per day
Pennsylvania, $370 million lost per day
Ohio, $300 million lost per day.
– From Better Roads
Number of financed skid steers, 2004-2010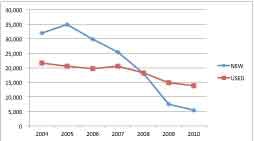 *As of December 15, 2010
Source: Equipment Data Associates, a division of Randall-Reilly
Digital exclusives for January
Marketplace Extra
Check out new products including a new ride-on trowel from Allen Engineering, Topcon's HiPer II receiver and Snow-Ex's SD-95 drop spreader.
Product Focus Extra
More pavers and curb and gutter machines from Multiquip, Miller Formless, Metal Forms and more.
Weigh in …
Take our poll! Visit www.EquipmentWorld.com and scroll down the left side of the homepage.
Our current poll:
Which trade shows will you attend in 2011?
Results from last month's poll:
What social networking site do you use most?
Facebook — 76%
Myspace — 13%
LinkedIn — 9%
Twitter — 2%
Network with us!
Connect with EW on Facebook and LinkedIn.
Enter "Equipment World" in the search field, join the group or "like" EW and stay updated on news and events while networking with fellow industry members.
Facebook pages:
LinkedIn: